We Believe You: Survivors of Campus Sexual Assault Speak Out
Unabridged Audiobook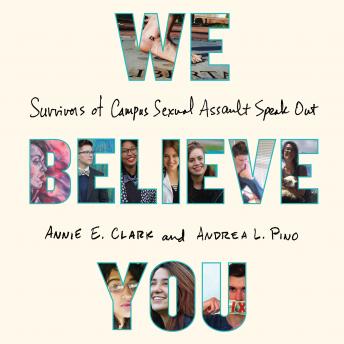 Duration:
8 hours 18 minutes
Summary:
From young activists at the forefront of the movement to end sexual assault on college campuses, a collection of survivor stories that will connect with students and inform and inspire us all


Across the U.S. student activists are exposing a pervasive cover-up of sexual assault on college campuses. Every day more survivors come forward. But other survivors choose not to. We Believe You elevates the stories the headlines about this issue have been missing--more than 30 experiences of trauma, healing and everyday activism, representing a diversity of races, economic and family backgrounds, gender identities, immigration statuses, interests, capacities and loves.

More than 1 in 5 women and 5 percent of men are sexually assaulted at college, a shocking status quo that might have stayed largely hidden and unaddressed but for the two authors of We Believe You. In 2013, Annie E. Clark and Andrea L. Pino, then 23 and 20, building on the work of earlier activists, outed themselves as assault survivors and filed a federal complaint against the University of North Carolina (Chapel Hill) for mishandling such crimes; within a month, the U.S. government began to investigate UNC. Within a year, dozens of colleges were under federal investigation.

But Clark and Pino rightly see themselves as two among many. Students from every kind of college and university—large and small, public and private, highly selective and less so—are sounding alarms and staking claims to justice by filing complaints, by pressing charges, and by simply living beyond the effects of assault and the betrayals of their schools.
Genres: