Sons of Texas
Abridged Audiobook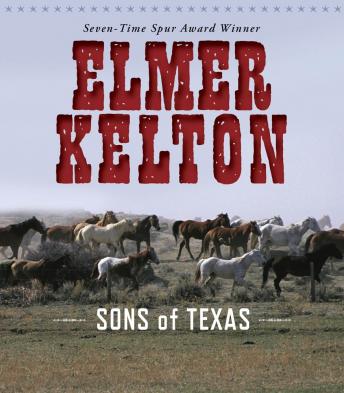 Duration:
3 hours 54 minutes
Summary:
In 1816, Mordecai Lewis, a veteran of Andrew Jackson's Indian campaigns and battles against the British, moves his family into the western Tennessee canebrakes. But Mordecai, a born wanderer, is not satisfied with farming, and with his sons Michael and Andrew and some other backwoodsmen, he leads a foray into Spanish-held Texas to hunt wild horses and return the mustang herd to sell in Tennessee.
Crossing the Sabine River, Mordecai's party encounters a Spanish patrol determined to repel all American invaders. After a bloody skirmish leaves their father dead, Michael and Andrew find their way back to their Tennessee farm.
Five years later, after the Spanish government in Mexico City has agreed to permit 300 American families to settle in Texas, the Lewis brothers have their opportunity to re-enter Texas. They ride to the frontier town of Natchitoches, Louisiana, where Michael falls in love with Marie Villaret, daughter of a wealthy French landowner, then cross the Sabine to find Stephen F. Austin, a Missouri entrepreneur in charge of the new American colony.
But the Lewises are considered interlopers and horse thieves and are dogged by a patrol led by the same ruthless Spanish offer who killed their father five years before
Sons of Texas is the first volume in a trilogy that follows the lives and adventures of the Lewis family through the era of the Alamo and Texas Independence under Sam Houston.
Genres: