Slow Road to San Francisco
Unabridged Audiobook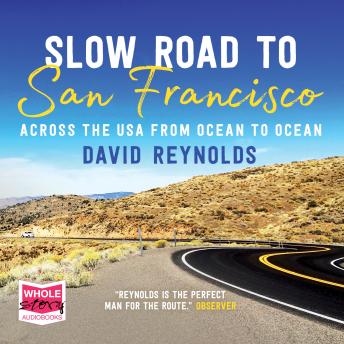 Duration:
13 hours 51 minutes
Summary:
Travel across the United States with David Reynolds as he explores US Route 50, one of the few remaining two-lane highways running from the Atlantic to the Pacific.

Driving as slowly as safety permits, stopping frequently and often going backwards to have a second look at something glimpsed in passing, Reynolds talks to people on the streets, in bars and cafes, motels and gas stations. They talk about everything from slavery and the traditional Indian sundance, to cannabis in Colorado and tornadoes in Kansas, and about everyone from George Washington and Aaron Burr to Marilyn Monroe and the Eagles, and everyone has something to say about Donald Trump - love him or hate him.'

'Ride shotgun with Reynolds as he pit-stops at diners and gas stations, and detours by way of legendary landmarks, where he reflectively enjoys cracker-barrel wisdom, saloon-bar wit, and good-ol' country wackiness' THE TIMES

'David Reynolds is a writer of calm, quiet brilliance.' DAILY EXPRESS

'Reynolds is the perfect man for the route.' OBSERVER

David Reynolds was one of the founding directors of Bloomsbury Publishing. His first job was on the legendary Oz magazine. He is the author of Swan River (shortlisted for the Pen/Ackerley Prize) and the critically acclaimed Slow Road to Brownsville.
Genres: