Nothing Special VIII: SWAT Ed.: Fox & Bull
Unabridged Audiobook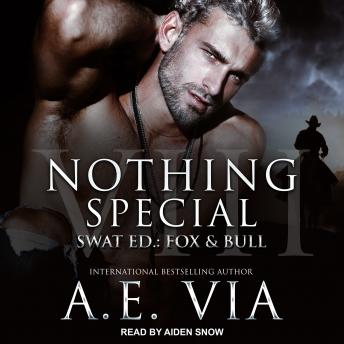 Duration:
9 hours 30 minutes
Summary:
A fox can set many traps to catch his target-but this one only needs one to catch his.

Dominic 'Bull' Walker is used to the simpler things in life. Give him his own land to work, a strong horse, and twelve hours of daylight, and he is a contented man. But when someone threatens to take away the successful ranch that took him two years to rebuild, he'll accept any help he can get to defend it.

Mandel 'Fox' Tucker is a sixth-generation SWAT soldier. It's embedded in his bones to protect and serve his community. So when he gets word of the vandalism occurring on the Walker Ranch, he quickly volunteers the free time he has, thanks to his recent suspension.

The brief visit Fox had with Bull four months ago had been a contentious-but powerful-encounter. Therefore, he's not surprised when he shows up on his doorstep unannounced and has to pull out some of his best tricks to get past the six-foot-four, stubborn Texan.

Fox is only there to safeguard what's most important to Bull. But being on the ranch brings an awareness to him that he embraces with both hands. Nature, peace . . . love-things he never found in the city.

Contains mature themes.
Genres: