Nothing Special Series Box Set: Books 1-5
Unabridged Audiobook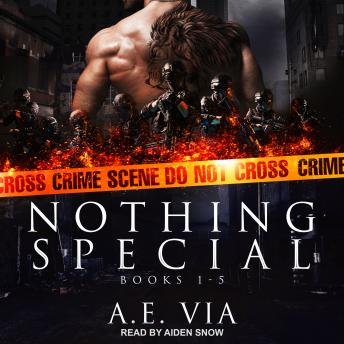 Duration:
51 hours 39 minutes
Summary:
A Box Set of the Award-Winning Nothing Special Series by Internationally Bestselling Author A. E. Via

To be accepted into the most notorious narcotics task force on the East Coast is an incredible honor. A rogue collection of the most feared and unorthodox detectives, independent of standard departmental jurisdiction. Headed up by two of the baddest Lieutenants with the Atlanta Police Department-Cashel 'God' Godfrey and Leonidis Day.

'We were a unit tonight, moving as one. Even apart, we are deadly, but when combined-we are f**kin' unstoppable.' -God

Set Contains Books 1-5: Book One: Nothing Special (God & Day); Book Two: Embracing His Syn (Detective Corbin Sydney & Furious Barkley); Book Three: Here Comes Trouble (Detectives Mark Ruxsberg & Chris Green); Book Four: Don't Judge (Detective Austin Michaels & Bounty Hunter, Judge Josephson); and Book Five: Nothing Special V (Detectives Edwin Steele & Shawn Murphy, 'Tech').
Genres:
1 of 1 people found this review helpful.