Making Waves
Unabridged Audiobook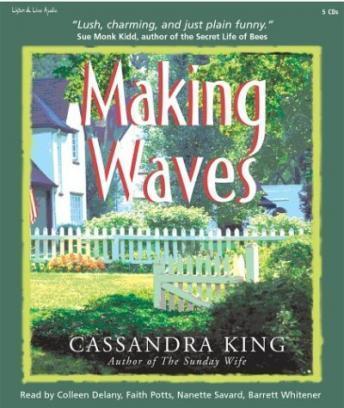 Duration:
6 hours 18 minutes
Summary:
In a small Alabama town in Zion County, life is finally looking up for twenty-year-old Donnette Sullivan. Having just inherited her aunt's old house and beauty shop, she's taken over the business, and her husband Tim, recently crippled in an accident, is beginning to cope not just with his disabilities but also with the loss of his dreams.

Once a promising artist who gave up art for sports, Tim paints a sign for Donnette's shop, Making Waves. The raising of the sign causes ripples through the town. In a sequence of events-sometimes funny, sometimes tragic-leading up to the surprise denouement, the lives of Donnette, Tim, and others in their small circle of family and friends are unavoidably affected.

Making Waves is about love and friendship and betrayal, unfulfilled desires and heartbreaking losses. Once the waves of change surge through Zion County, the lives of its people are inextricably altered. 
Genres: