Lenin's Embalmers
Unabridged Audiobook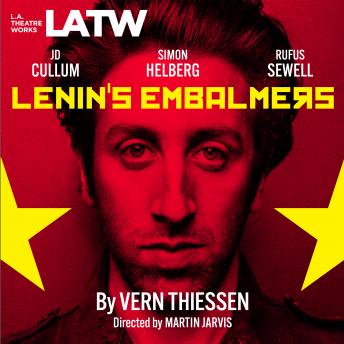 Duration:
1 hours 11 minutes
Summary:
After Vladimir Lenin's death, Stalin orders two Jewish scientists to preserve Lenin's body for all time. If they succeed, the rewards will be considerable. If not, it's the gulag – or worse. Based on real events, Vern Thiessen's nimble dark comedy exposes the absurdities of Soviet life under Stalin.

Lenin's Embalmers is part of L.A. Theatre Works' Relativity Series featuring science-themed plays. Lead funding for the Relativity Series is provided by the Alfred P. Sloan Foundation, bridging science and the arts in the modern world.

Recorded at The Invisible Studios, West Hollywood in July 2018.

Director: Martin Jarvis
Producing Director: Susan Albert Loewenberg
JD Cullum as Vlad
Simon Helberg as Boris
Gregory Harrison as Lenin
Jon Matthews as Krasin
Rufus Sewell as Stalin
John Sloan as Agent 2
Mark Jude Sullivan as Agent 1
Jocelyn Towne as Nadia

Associate Artistic Director: Anna Lyse Erikson.
Sound Designer and Mixer: Mark Holden for The Invisible Studios, West Hollywood.
Senior Radio Producer: Ronn Lipkin.
Foley Artist: Jeff Gardner.
Recording Engineer and Editor: Erick Cifuentes.
Genres: