Academy for Courting Curses
Unabridged Audiobook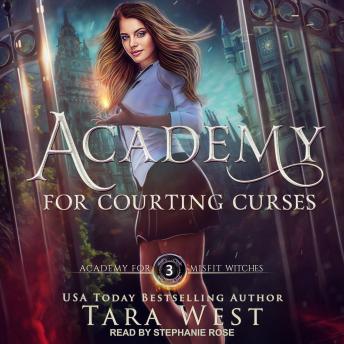 Duration:
6 hours 52 minutes
Summary:
'If you think Goldenwand is the vilest witch who's ever lived, think again. An ancient and evil beast has been awakened, and she possesses the wand to kill us all.'

And they thought passing final exams would be hard . . .

Fae, dragons, witches, and shifters have joined forces to descend on Goldenwand's island, determined to root out the wizard and bring him to justice. There's only one problem: an ancient curse has been lifted, freeing Gae, a vengeful demoness, from her slumber. She possesses the power to bring everyone to their knees, even the mighty dragon king.

After Gae captures Serah and Teju, cutting off Serah's siren voice and binding their magic, she puts her plans for revenge in motion. She believes Serah to be the goddess who first imprisoned her, and she intends to make her suffer a most excruciating death.

With no way to penetrate Gae's magical barriers, how can Draque and Ladon save their mate and brother? How can they save the world?

Contains mature themes.
Genres:
2 of 2 people found this review helpful.